Spark - A Smart Email App
There are a handful of apps I really love for their productivity and ease of use. Spark, a free download, by Readdle, Inc. is one of them. I understand that Apple's Mail App works for the general population at large, but if you need a mail app with more options to assist with your workflow and productivity, Spark is the answer.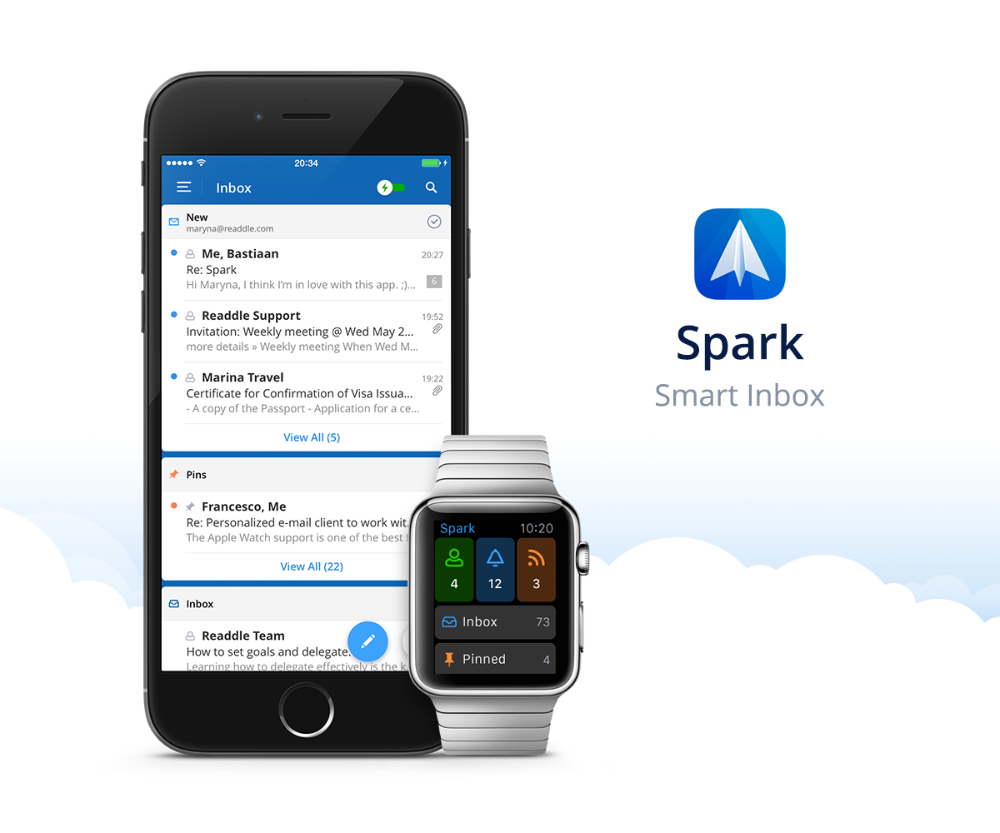 Spark handles multiple email accounts and can be set up to sync those accounts among your devices. Like Apple's Mail app, you can view all your emails in one "inbox" or you can view each account's inbox independent from each other. However, Spark also sports what is called a "Smart Inbox," a unified inbox which knows the difference between personal email, a notification or a newsletter. This allows you to see your incoming email on cards; new, notifications, newsletters and pins (or flagged). Notifications can be set up to swipe left to archive, delete or mark your emails as read.
Choices while reading an email include pinning the email and/or scheduling the task for another day (the snooze option). There are also quick replies, such as "like", "thanks," or an emoji smile among others plus you can also edit the list to include your own. Add the calendar widget to see event invitations and respond and save them to your phone's calendar. Other options include print (if you have an air printer), save, move, archive, delete, view details, mark as spam, as well as save to PDF and share on social media, send to notes or other applications which you may have on your iPhone. OmniFocus support is one of my favorites.
Emails can also be scheduled to be sent later in the day when they are most likely to be read by the recipient and you can set up Reminders to follow up on email if you don't get a reply.
Setup signatures for use by each individual email account in settings and then swipe between signatures to choose the right one for your email. I personally love this option since I have several email accounts, including personal and business. Spark will also automatically detect and will add your most used signatures to your list.
Smart search uses natural language which makes it easier to sort through emails in all of your mailboxes. If you type "emails with attachments" you can view emails sent to you with attachments during the month. "Attachments" is also an option in the menu list. Save searches by hitting the star icon in the header. You will note a recent and saved option in the quick bar. How many times have you had to enter the same search information for a client or vendor? Now you can save those searches and save time.
Use the calendar widget to view and respond to invitations and save them to your phone or iPad calendar with just a tap.
If you have just sent an email and forgot to send the attachment, you have five seconds to undo the send action. If you are working on an email and you need to attend to another task, you can choose to save the email and come back to it later.
Connect to and save or send attachments using the following services: Dropbox, Box, Readability, Evernote, Instapaper, Google Drive, OneDrive, Pocket and OneNote.
Supported email services include Gmail, Exchange, Yahoo!, iCloud, Outlook and Kerio Connect.
Spark Mail app can be viewed in either vertical or horizontal format depending on your mobile device. This is something I especially enjoy on my iPhone 8Plus.
Spark for Apple Watch allows you to look at your inbox, see the number of unread emails, and displays the sender and subject for the last received email. You will also see the number of pinned emails for the day. You can reply to emails using dictation or use one of Spark's "quick replies" without using your iPhone. Any emails you have designated as important will alert you with a tap on the wrist and you can then decide to read it, reply to it, or pass on it for later. Emails that are too lengthy for the Apple Watch will be passed off to your iPhone for you to continue reading or writing a reply. All in all, they have done an excellent job of making the Spark Apple Watch App very intuitive and user friendly.
Spark mail app is available for the iPhone, iPad, Apple Watch, and Mac but is planning a cross-platform email client soon. Spark for Teams offers collaboration allowing disccussion and sharing of emails with colleagues.
Website: https://sparkmailapp.com
Download for Mac: https://itunes.apple.com/app/spark-love-your-email-again/id1176895641?mt=12
Download for iPhone and iPad: https://itunes.apple.com/app/spark-by-readdle/id997102246?mt=8