Apple Health Application - Medications, Cycle-Tracking Features and More
Apple's security for their Health Application is very robust. This section will discuss some of the features found in the Health Application Medications and Cycle-Tracking components.
Medications and your privacy
Apple's new Medications component for watchOS 9 and iOS 16 allows users to manage their medications, vitamins, and supplements. Importing your prescription information into Medications is as easy as using your iPhone camera to scan the label; the prescription name, strength and form will be imported directly into the Medications component. You can also enter the information manually for both prescription medications and over-the-counter drugs and vitamins. You will be able to verify the specific medication, OTC drug or vitamins with Apple's rather comprehensive medical listing, including a comprehensive description and a notification or alert about possible drug interaction factors (delineated as critical, serious or moderate interaction) for the imported medications. Educational content on medications gives context like how to pronounce the name, what it is used for, how it works, potential side effects and interaction with other medications the user may be taking. Custom visuals can be assigned to each medication, making them easier to remember. Reminders or alerts can be scheduled once a day, multiple times a day, once a week, or as needed. Once medications have been logged, they can be found in the Health Application within the Medications component, giving the user insight into their medication adherence.
Medications can be logged on the iPhone in Medications, within the Health Application, or on the Apple Watch. In fact, once your medication schedule has been set up on your iPhone, the Apple Watch will automatically remind you when it is time to take your scheduled medications.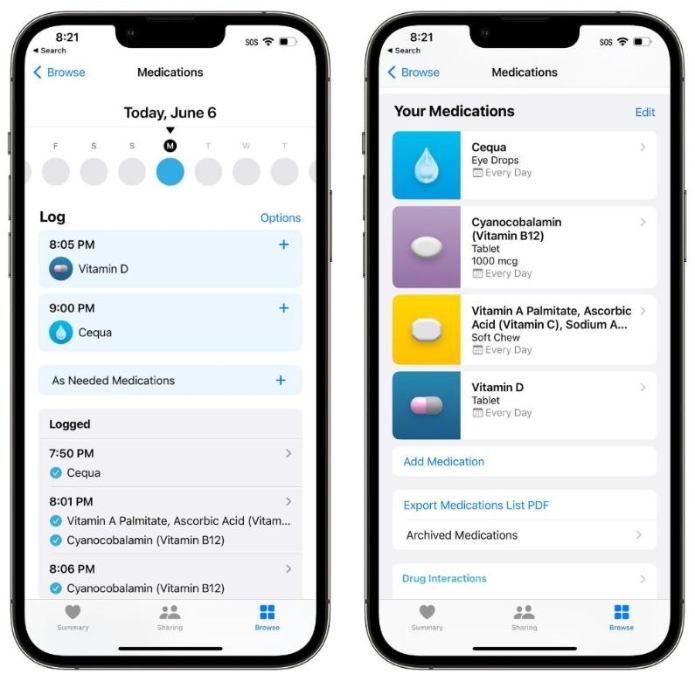 To log your medications, follow these steps:
If you've received a notification to log your medications, tap the notification. Otherwise, open the Medications app on your Apple Watch.

Tap the current medications schedule—the medications you take in the morning, for example.

Tap Log All as Taken.
Apple Watch records the dosage, the number of units taken, and the time you took the medication.
To log individual medications, scroll down, tap a medication under Your Medications, then tap Log.
The medication's name and time logged appears under Logged.

To change the status of a logged medication, tap it, tap Taken or Skipped, then tap Done.
The Medications component also allows health sharing with family members. This can be found in the Health application. Go to Browse > Medications > Sharing. You will be given the choice to share with another person or share with your doctor. Once they receive their invitation, they can choose which data to share. Also within this component, is the choice to participate in research studies and which installed applications have permission to write data to the Health Application.
---
Menstrual Cycle-Tracking and your privacy
You can track your menstrual cycle in the Health Application on both your iPhone and on your Apple Watch (with iOS 13 and watch OS 6 or later), providing a simple and secure solution for logging menstrual cycles. On your iPhone, go to the Health application, tap Browse > Cycle Tracking > Get Started. Follow the onscreen steps to set up your personal preferences. You will be presented with factors that affect your cycle; pregnant, lactating, using contraceptives, and none of these. Period and fertility tracking notifications and prediction data and heart rate data predictions can be chosen as well as the ability to export your cycle history to a PDF for the last 12 months of your cycle history. For further privacy, the Cycle Tracking applicatiion can be hidden or deleted from your Apple Watch and tracking data can be deleted within the Health Application on your iPhone. Detailed instructions for setting up Cycle Tracking on the iPhone and Apple Watch can be found here.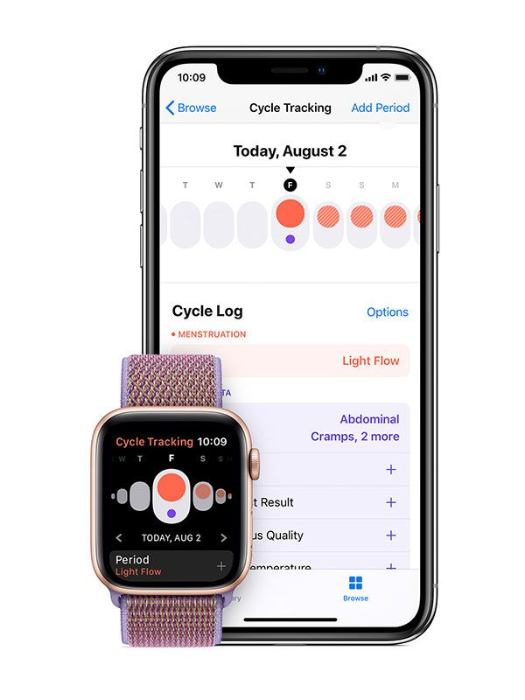 Although the Health Application database is encrypted on the iPhone, the user's passcode or facial recognition provides the key to unlock or decrypt the database. When your iPhone is locked the Health Application's database is encrypted after 10 minutes. There are two methods to insure your phone is locked.
Manually press the side button to lock your iPhone automatically.
If Auto Lock is enabled, it will lock automatically after a designated period of time, the default being 30 seconds. Enable Auto Lock as follows:
Go to Settings > Display and Brightness and set Auto Lock. Verify that Auto Lock its set to 30 seconds.
Face ID and Touch ID will also unlock your Health Application data, which is obviously easy and convenient; however, law enforcement agencies cannot force you to enter your passcode because doing so violates "testimonial information" which is protected under the Fifth Amendment. There are documented instances of some law enforcement forcing iPhone owners to use their Face ID or Touch ID.
Apple has provided a solution if you find yourself in a situation whereby you want to protect your privacy. If you feel you will be forced to do so, simply press and hold the Volume Button (volume up or down) and Side Button for three seconds. You may or may not feel a haptic vibration, depending on your iPhone settings, but there is no need to look at your iPhone while doing this as this action will immediately disable Face ID and Touch ID. Your iPhone will give you the option to turn off your phone which you can do if you wish. When using your iPhone again, you will need to enter your passcode to unlock your phone.
In addition to the safeguards above, make sure the Health Application iCloud backup is encrypted. This is important in case there is a high level data breach or if Apple is ordered to release your information to law enforcement. If your data is encrypted end-to-end, even Apple will not be able to access your encrypted database. In order to protect your data, enable 2FA (Two-Factor Authentication). You can do this by going to Settings > [Your Account Name] > Password & Security and set Two-Factor Authentication to ON.
And last, but not least, most third party menstrual cycle-tracking applications store your data on their servers and could have to comply with law enforcement warrants. As a consequence of the Supreme Court ruling which overturned Roe vs Wade, you may want to be aware that many third party applications do not provide you with the same security for your database as Apple. So it is important to disable these applications from accessing your menstrual cycle-tracking. Do this by going to Settings > Privacy > Health and determine which third party applications have access to menstruation and any related data such as Ovulation Test Result, Pregnancy, Pregnancy Test Result and spotting.

In conclusion, Apple's Health Application and its' cloud end-to-end encryption and it's medication and cycle-tracking companions is an excellent choice for maintaining your heath privacy.
---
AFib Tracking and History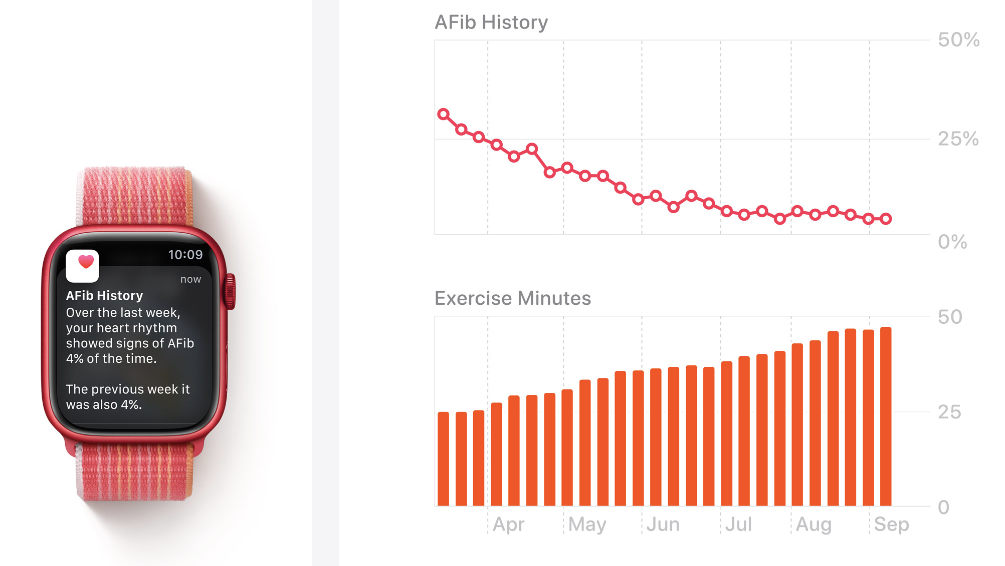 Atrial fibrillation history is available on Apple Watch Series 4 or later, including Apple Watch SE with watchOS 9.0 or later; a feature which was cleared by the FDA for people 22 and older who have been diagnosed with atrial fibrillation. The AFib tracker can be found in the Health App and if diagnosed by a doctor, allows users to track their heart rhythm and factors which may contribute to AFib such as sleep, alcohol and exercise as well as the time of day or week when the user's AFib is most frequent. Users can share AFib data history with their health providers and download their history to a PDF file.
---
Workouts and Apple Fitness+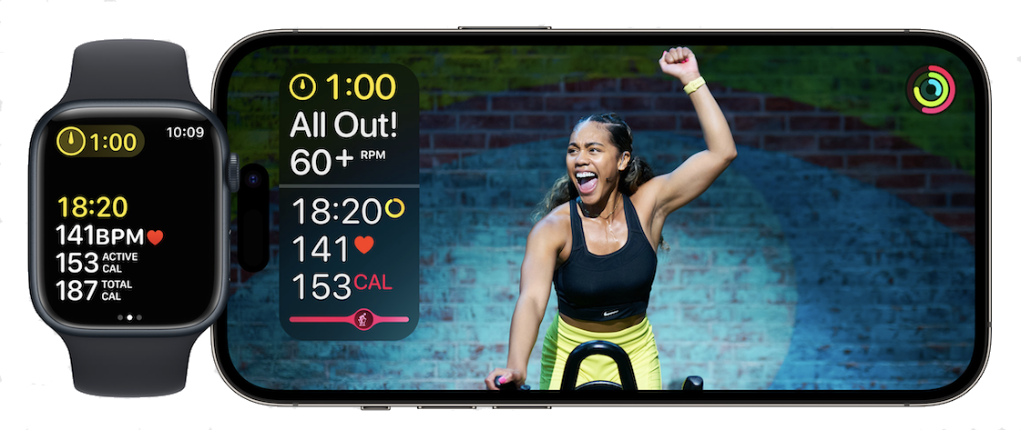 Photo by Apple
Apple Fitness+ requires iOS 14.3 or later, iPadOS 14.3 or later, watchOS 7.2 or later, and tvOS 14.3 or later. iPhone owners using iPhone 8 or later with iOS 16.1 or later will be able to subscribe to Apple Fitness+ without a paired Apple Watch.
Apple allows iPhone, iPad and Apple TV users to view and subscribe to and access thousands of videos and audio workouts for beginners to advanced, with a subscription to Apple Fitness+. Users can choose from several workout types—Strength, High Intensity Interval Training (HIIT), Yoga, Mindful Cooldown, Pilates, Treadmill Run, Cycling, Dance, Core, Rowing, Walk—meditation and themes, as well as audio-guided walks and runs are accompanied by a compliment of Apple Music on iPhone, iPad or Apple TV.
Users can choose from several workout types:
Apple has introduced new personalized onscreen workout metrics for the Apple watch, including heart rate zones, monitoring and workout intensity. Users can create custom workouts, including recovery intervals. There are also customizable features for triathletes; the Apple Watch will recognize when a user switches from swimming to running to biking, etc. The watch can detect when swimmers use the kick-board, track their SWOLF score, stroke count and time taken to swim a pool length. Metrics for runners include stride length, ground contact time and vertical oscillation. Frequently used routes can be stored, and users can receive alerts if they get off course and whether they are keeping up with their previous pace.
Depending on the type of workout, metrics which can be included are Heart Rate, Power, Segments, Splits, Elevation, Pace, Cadence, Distance, Duration, Vertical Oscillation, Running Stride Length and Ground Contact Time.
Apple Fitness+ Now All You Need is an iPhone
Apple support on "Use the Workout App on your Apple Watch"